Prestige Lighting Solutions
Sdn Bhd
(BULB 2 U)
Tropicana City Mall,
LG-26, No.3,
Jalan SS20/27,
47400 Petaling Jaya,
Selangor, Malaysia.
012-9298386 (Tedee Wong)
016-3639030 (Alez Wong)
Administration Office
Lot 8262, Jalan Permata 1,
Arab Malaysian Industrial Park,
71800 Nilai, Negeri Sembilan,
Malaysia.
+606-7941313
+6012-929 8386
+606-7941333
bulb2u@gmail.com
[Petaling Jaya]
1, Jalan PJU 7/3,
Mutiara Damansara,
47820 Petaling Jaya,
Selangor, Malaysia.
(Push cart at link bridge
The Curve-IPC Shopping Centre)
[Subang Jaya]
P02A, Basement Floor 1,
Empire Shopping Gallery,
Jalan SS16/1,
47500 Subang Jaya,
Selangor, Malaysia.
Essential LEDtube
Philips --- LED Lamps ---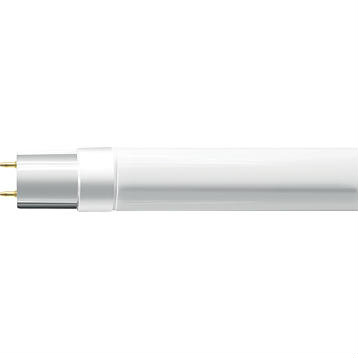 Essential LEDtube is an affordable LED tube that is suitable for replacing T8 fluorescent lamps. The product provides a natural lighting effect for use in general lighting applications, as well as instant energy savings – an environmentally friendly solution.


General Characteristics
| | |
| --- | --- |
| Main Application | Industrial |
| Cap-Base | G13 |
| Rated Lifetime (hours) | 30000 hr |
| Nominal Lifetime hours | 30000 hr |
Light Technical Characteristics
| | |
| --- | --- |
| Colour Code | 865 |
| Beam Angle | 140 D |
| Correlated Colour Temperature | 6500 K |
| Colour rendering index | 80 |
| Rated Luminous Flux | 1600 Lm |
| LLMF - end nominal lifetime | 70 % |
| Colour consistency | <6 |
| Rated Beam Angle | 140 D |
Electrical Characteristics
| | |
| --- | --- |
| Wattage | 20 W |
| Voltage | 220-240 V |
| Line Frequency | 50/60 Hz |
| Power Factor | 0.9 (min) - |
| Dimmable | No |
| Rated Wattage | 20 W |
| Starting Time | 0.5 (max) s |
| Warm-up Time to 60% Light Outp | instant full light |
| Energy saving product | Yes |
| Suitable for accent lighting | No |
Temperature Characteristics
| | |
| --- | --- |
| T-case maximum | 55 (max) C |
| Operating temperature | -30 (min), 45 (max) C |
| T-Storage | -40 (min), 65 (max) C |
Environmental characteristics
| | |
| --- | --- |
| Energy Efficiency Label (EEL) | A |
Measuring Conditions
Product Dimensions
| | |
| --- | --- |
| Length A1 | 1198.0 mm |
| Fixing Hole Distance A2 Length | 1205.0 mm |
| Length A3 | 1212.0 mm |
| Mounting hole diameter | 25.68 mm |
| Circular outline dimension | 28 mm |
Approval & Application Chars
| | |
| --- | --- |
| VDE marking | No |
| CE marking | Yes |
| UL certificate | No |
| RoHS compliance | Yes |
| KEMA Keur certificate | Yes |
Product Data
| | |
| --- | --- |
| Order code | 929000296708 |
| Full product name | ESSENTIAL LEDtube 1200mm 20W765 T8 AP I |
| Order product name | ESSENTIAL LEDtube 1200mm 20W765 T8 AP I |
| Pieces per pack | 1 |
| Packing configuration | 10 |
| Packs per outerbox | 10 |
| Bar code on pack - EAN1 | 8718291246329 |
| Bar code on outerbox - EAN3 | 8718291246336 |
| Logistic code(s) - 12NC | 929000296708 |
| Net weight per piece | 0.270 kg |